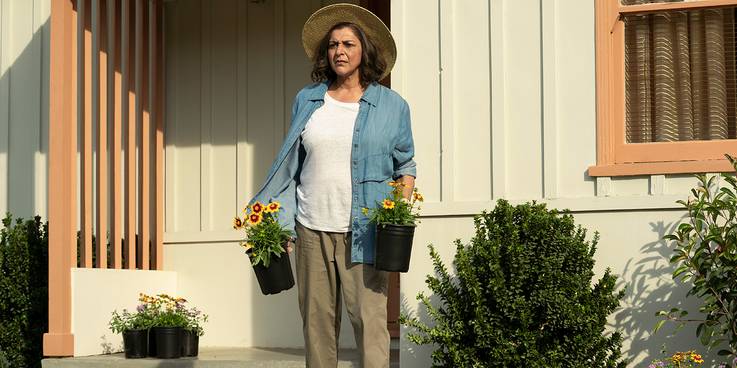 This post contains affiliate links. If you use these links to buy something I may earn a commission. Thanks!
Apple TV's Roar is an anthology series telling fables about womanhood, ranging from topics like dating, gender roles, motherhood, and race. Meera Syal plays, Anu in the episode The Woman Who Returned Her Husband, an empty nester who returns her husband to the store after being over her lackluster marriage. I talked to Syal more about her role and why being a part of this project was so special.
What attracted you to this project?
Oh wow, such a different project really. For someone who looks like me, of my age, to be offered a part with this much range, with this much wit and compassion with it, it's just a very rare thing. I would be a fool to say no, honestly. It's a gift of a role.
Your episode is very unconventional with it being a rom-com and you're a woman of color and empty nester. How was it like playing that very non-traditional role?
For me, it felts absolutely truthful. I've been offered stereotypical traditional roles in my career. It's so nice when you find one that treats you as a complex, real woman, and the way real women are. We are full of these disappointments and unfulfilled potential, and this yearning. As someone who is the same age, I know that feeling of looking back and saying "is this it? Is this who I'm going to be? Is my life over?" I think so many women can relate to that. I feel like it's a role so full of truth really, just about women. The fact that she's a South Asian woman gives it an extra cultural twist but I think ultimately it's a very universal story.
There is a moment in your episode where your character is ending with her friends and they say that a lot of people are unhappy in their marriage, that she just needs to endure. What was that like to discuss that?
You know, it's real life. I've sat around tables and heard those discussions. I grew up around a lot of disappointed women. [Laughter] Very unfulfilled women. My aunties were like that. And I don't think that's a cultural thing. I think if you talk to all kinds of women from my generation if they were listening to their mothers, or their grandmothers, believe me, they all went through it. Because socially you weren't allowed to leave your marriage, you weren't allowed to question your marriage. And to be able to voice that you're unhappy, and then to do something about it, for women of my generation, we think that's nothing. But for women from past generations, it's huge. So I think it's a very relatable thing, but I think it has come later for some of our older communities because the traditions are still there. But that doesn't mean the emotions weren't there. It's just that we didn't talk about them.
It was really refreshing that each time she had a new husband, she was honest about her breaking points: you can't talk to me like that, I don't want to remind you of your mother. It was nice to see a woman have agency in her relationship. I don't think that's often shown in media.
Yes, thank you. Absolutely. And I think that's the point of this series. This whole series is through the woman's gaze. And that's what was so brilliant and refreshing about the script and the whole series. But that's because it was an all-female team. All the writers, all the directors, and the executive producers. It was deliberate. Because it is about having agency. For so many years we have had to have our lives interpreted by a male gaze. And we don't produce the same work, how can we? The fact that you said that means our work is done! [Laughter] That's the point, that is absolutely the point of telling these stories. Each story is so different, like how you said one is a rom-com, some are psychological thrillers, and some are dystopian. But actually, they all come back to the same thing: that this is about women ad they are the heart of the story.
Was this the first time you worked with an all-female team?
I think it probably is in terms of all-female, top to bottom. I've certainly worked with female directors before and female writers. I've worked with an all-female cast. But I don't believe I've been on a film set where all of the creators have been female. That's still unusual. And it does make a difference with the sort of shorthand that goes on, we just get each other. And we get the story, we don't have to explain. When I even mentioned the idea of this episode to some female friends "what do you think about a woman that takes her husband back to the store because she has the receipt?" they all just fall about laughing. You don't have to explain it. They get it. They get the whole backstory.
Did you read the book before or the story that your episode is inspired by?
You know, I didn't. I heard about Cecilia and the anthropology but I hadn't read it. And then after I got the part I read it and I just thought it was such a brilliant piece of work. I thought how clever actually. What a perfect synthesis to move this to film and television because they're all self-contained. They are all in their own universe. It's sort of brilliant for a series to have all these self-contained stories that are held together by this one thing. Because these are all experiences we have all had in different ways as women.
What was it like to try to tell an entire story in 30 minutes?
It was a wonderful script. Vera's [the writer of the episode] done an amazing job. You go through a whole life. I think it's because it's a comedy, that it's almost a rom-com, you can move quickly. It's got the speed of a comedy, so that was helpful. And I think we're so sophisticated as an audience now. We really get things quick. So I think you can tell stories a lot quicker. It's really interesting watching programs, even from like 20 years ago. If you watch some things, you're like "oh my goodness this is slow. They are taking five minutes to say this one thing. " We've all quickened up anyway about how we absorb stories and move on. I like the speed of it. I think the audience will too.
As a writer yourself, does that affect your approach to acting roles?
I think it certainly helps when I read a script. Because obviously, I've been on the other side of the table. What it does make me do is utterly respect the writing process. Because I know how much blood and tears have gone on for months, possibly years, to get this half-hour script on a desk. So I really expect the writer and the writing process. Sometimes people think being a writer you can be more cavalier and try to change stuff and I would just never do that. I respect how many people have looked across the lines. And I know when I write, I'm always aware that there is an actor who is going to say those words. Even if they only have a few lines, I give them a name, not just Woman in Shop. [Laughter] Because sometimes I've been Woman in Shop. It just makes you feel just a little less useless if you have an actual named character. I think it makes you more sympathetic to both processes. I got a chance to thank Vera because she was on set, and I kept saying "thank you, thank you, for this role. Thank you for creating such a wonderful character." It was a joy to play.
Do you have a favorite scene that you shot?
Weirdly, I really enjoyed all the scenes where Anu is just breaking down, just slobbing around in her house. And we did quite a lot of improvising around those scenes, just lying on the softa trying to throw popcorn in my mouth, just slobbing around. I just was like, I know this feeling. I can let it all go. I can look as terrible as I want. I can just be miserable and really vulnerable. And I think strangely it was really enjoyable. I don't know why. I supposed it was to uncover is misery after she spent so much of the episode trying to cope. Just being really naked and vulnerable, was nice to do. And then of course all the scenes with lovely Vic, when they are just sitting in the shop just finding their way back to each other. It was so beautifully written and delicate. So I enjoyed it.
All episodes of Roar are streaming now on Apple TV +
You can check out my interviews with Merritt Weaver and Fivel Stewart about their Roar episodes here.
Roar Book
Roar at Amazon
Read this and other books for free with this free 30-day trial of Kindle Unlimited.