Photos: AMC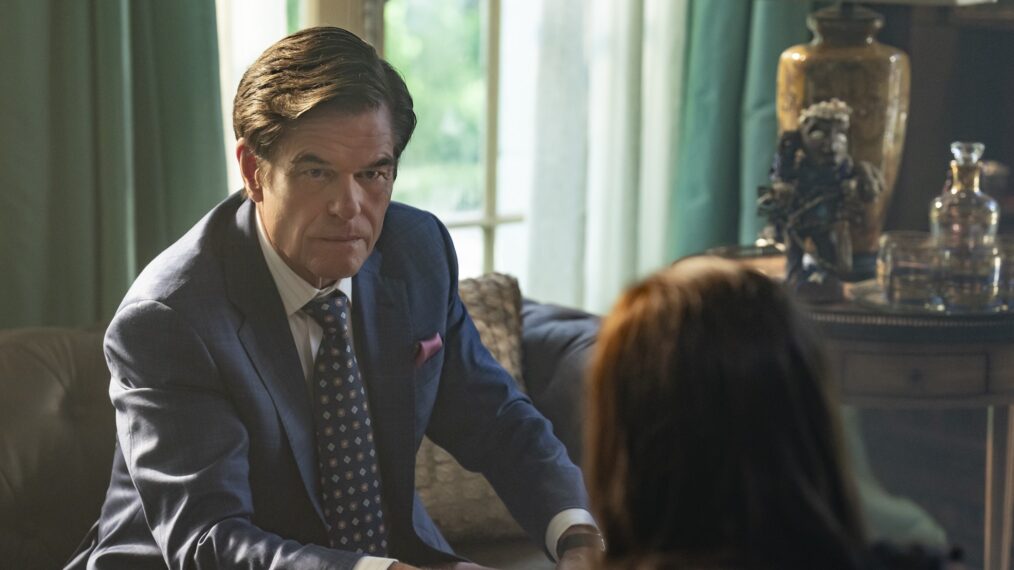 This post contains affiliate links. If you use these links to buy something I may earn a commission. Thanks!
Mayfair Witches, based on the book series by Anne Rice, is now entering the AMC Immortal Universe. Dr. Rowan Mayfield (Alexandra Daddario) learns that she is from a long line of witches after her adopted mother passes away. I talked to Tongayi Chirisa, who plays her handler Ciprien, and Harry Hamlin, who play Cortland Mayfair about whether or not they would want a gift and their characters' relationship with Rowan.
In the Mayfair World, some people are gifted some aren't. Would you want to be gifted? And if so what would be your gift?
Tongayi Chirisa (Ciprien): You know, I think everybody's gifted. Harry might not agree but I think his gift is charm you might think otherwise. But I think everybody [is gifted] because of that I would love to be gifted [in the Mayfair World] absolutely. If I had another stab at having another gift it'd be the gift of influence. That would be my thing.
Harry Hamlin (Cortland Mayfair): But you already have that.
Tongayi: No I mean I can tap into that, but I'm saying if I had another gift it'll be the gift of influence I could talk to you and be like "Harry give me a Maserati" "oh okay" well he's like "oh I feel compelled to give this to you brother."
Harry: There's a trope that goes way back about whether you want three wishes or not and there's always a trap in that right? Whoever gets the three wishes there's always some huge disaster that goes along with that.
Tongayi: True
Harry: so I would never ever whatsoever. I like it just the way it is
Both of your characters seem to be attracted to Rowan in different types of ways. Could you describe your character and dynamic with her?
Tongayi: Well for me I'm assigned to protect her and watch over her as a member of the Telemaska. We've always had a keen interest in the Mayfair family and so I'm just one of the many agents that have been tasked to monitor what's happening. Through a course of events, Ciprien seemingly oversteps his boundaries, and because he does that it just sends these two spiraling into some unknown journey that has definite repercussions for my character for Rowan for the ultimate of what I was trying to protect her from and so we see that manifest in so many ways.
Harry: My role is somewhat of an uncle with her you know at least as we see it in the first five episodes now that's gonna change but I can't go into that. Also, I want to guide her protect her make sure that she makes the right decisions. She is the 13th witch and that's a big deal in this family so I've got to make sure that whatever dynamics evolve out of my relationship with her the best of all possible worlds she will find.
You can read my interviews with Jacob Anderson, Sam Reid, and Bailey Bass here and Assad Zaman and Eric Bogosian here.
The Mayfair Witches Books
The Witching Hour (Lives of Mayfair Witches) at Amazon
Lasher (Lives of Mayfair Witches) at Amazon
Taltos (Lives of Mayfair Witches) at Amazon